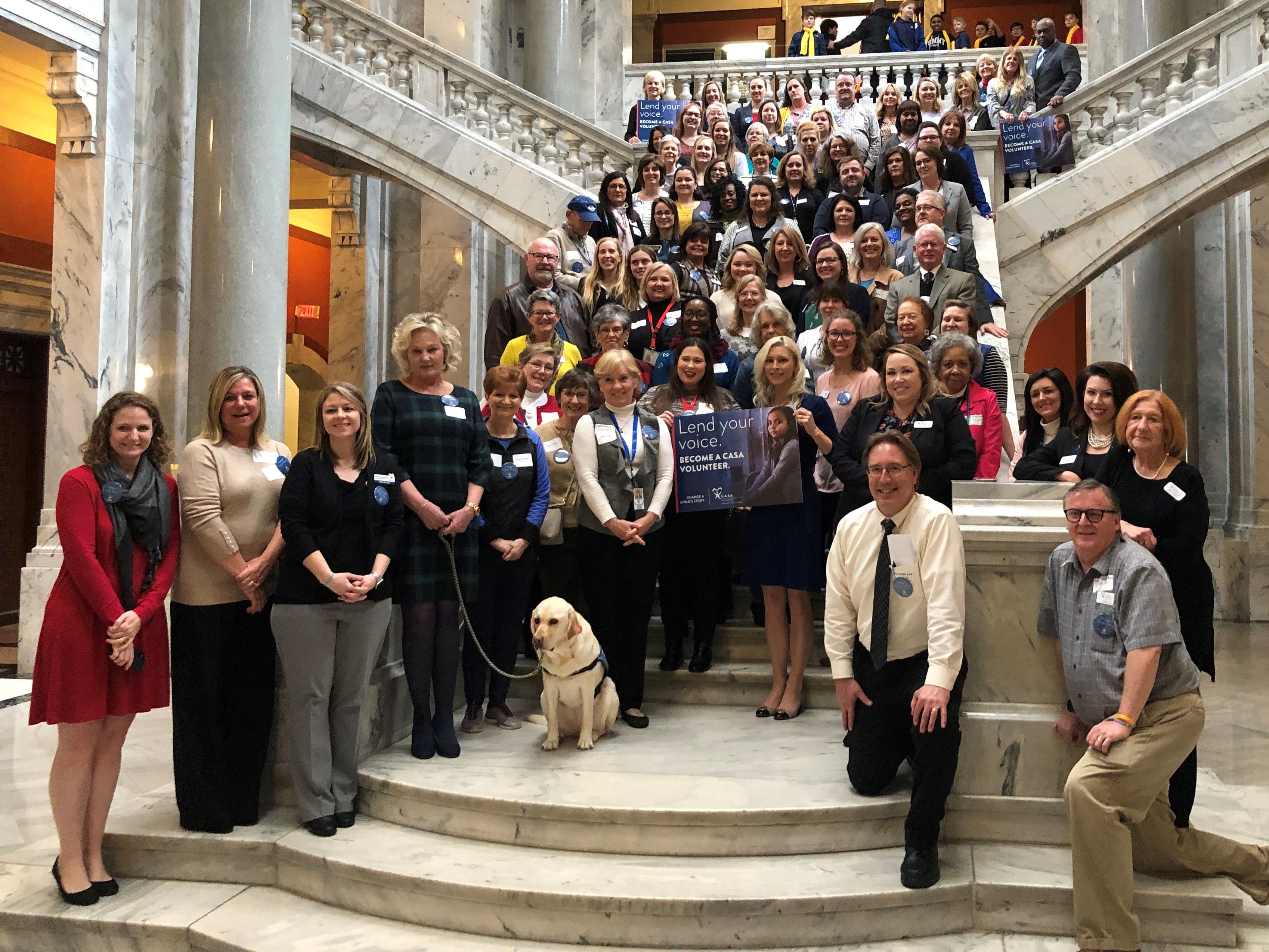 FOR IMMEDIATE RELEASE
Contact: Andrea Bruns, State Director
abruns@kentuckycasanetwork.org
(502) 238-2154
February 26, 2020 – The Kentucky CASA Network, Inc. (KCN) hosted the inaugural CASA Day at the Capitol on Tuesday, February 25, 2020. More than 120 local Court Appointed Special Advocates (CASA) program staff, board members, and volunteer advocates from across the Commonwealth convened in Frankfort to meet with their legislators to talk about CASA advocacy and the impact their volunteer work makes in the lives of abused and neglected children in Kentucky.
CASA programs had the opportunity to hear from several legislators and government officials who spoke to the group to thank them for their service:
First Lady Britainy Beshear
Attorney General Daniel Cameron
Auditor Mike Harmon
House Democrat Leader Joni Jenkins
Senate Democrat Leader Morgan McGarvey
Speaker Pro Temp David Meade
Representative Kim Moser
Representative Jason Nemes
"To see such dedication by CASA volunteers, who already give so much of their time to Kentucky's children, take a day to travel many hours to come together and tell their stories is a testament to these amazing citizens," said Andrea Bruns, State Director of the KCN. "They do this for no other reason than to help provide a voice to the voiceless. We greatly appreciate Kentucky's elected officials who stopped by to thank them for their work and the investments being made to CASA in the Commonwealth."
About the Kentucky CASA Network
The Kentucky CASA Network is the state association for Court Appointed Special Advocates, as recognized in the Kentucky Revised Statutes, with a mission to support the development, growth, and continuation of local CASA programs in Kentucky. CASA programs recruit and train volunteers to advocate on behalf of children who have come into the court system as a result of dependency, neglect, or abuse. In 2019, 1,313 CASA volunteers advocated for 3,818 abused and neglected children statewide. Kentucky currently has 23 local CASA programs that cover 62 counties.