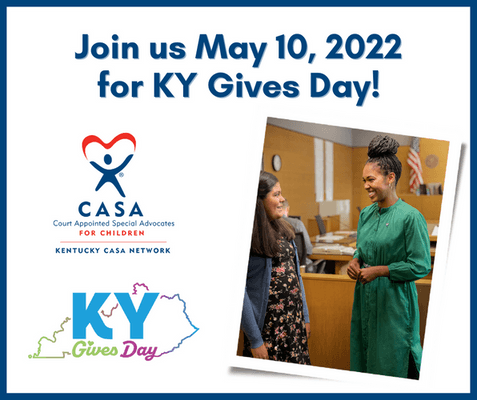 Make a life-changing impact for a child.
Join us on May 10 for KY Gives Day, the annual day of giving for Kentucky nonprofits. The Kentucky CASA Network (KCN) is a 501(c)(3) nonprofit organization, governed by a board of directors, that provides ongoing development, training, technical assistance, and resources to local CASA programs across the Commonwealth. Currently, the KCN is an association of 24 local programs that served 3,758 abused and neglected children in 2021. The KCN also advocates for the needs of CASA programs with industry stakeholders in Frankfort and throughout the state. Your donation on May 10 will help us to do the following on a statewide level:
Spread awareness about the CASA mission
Recruit more CASA volunteers to advocate for more children
Provide more training for local CASA program staff, directors, board members, and volunteers
Achieve our goal of bringing CASA services to all 120 Kentucky counties
Every dollar makes a difference. Take part in helping to change a child's story today. Visit https://www.kygives.org/organizations/kentucky-casa-network to learn more and donate.
Thank you for supporting the Kentucky CASA Network!