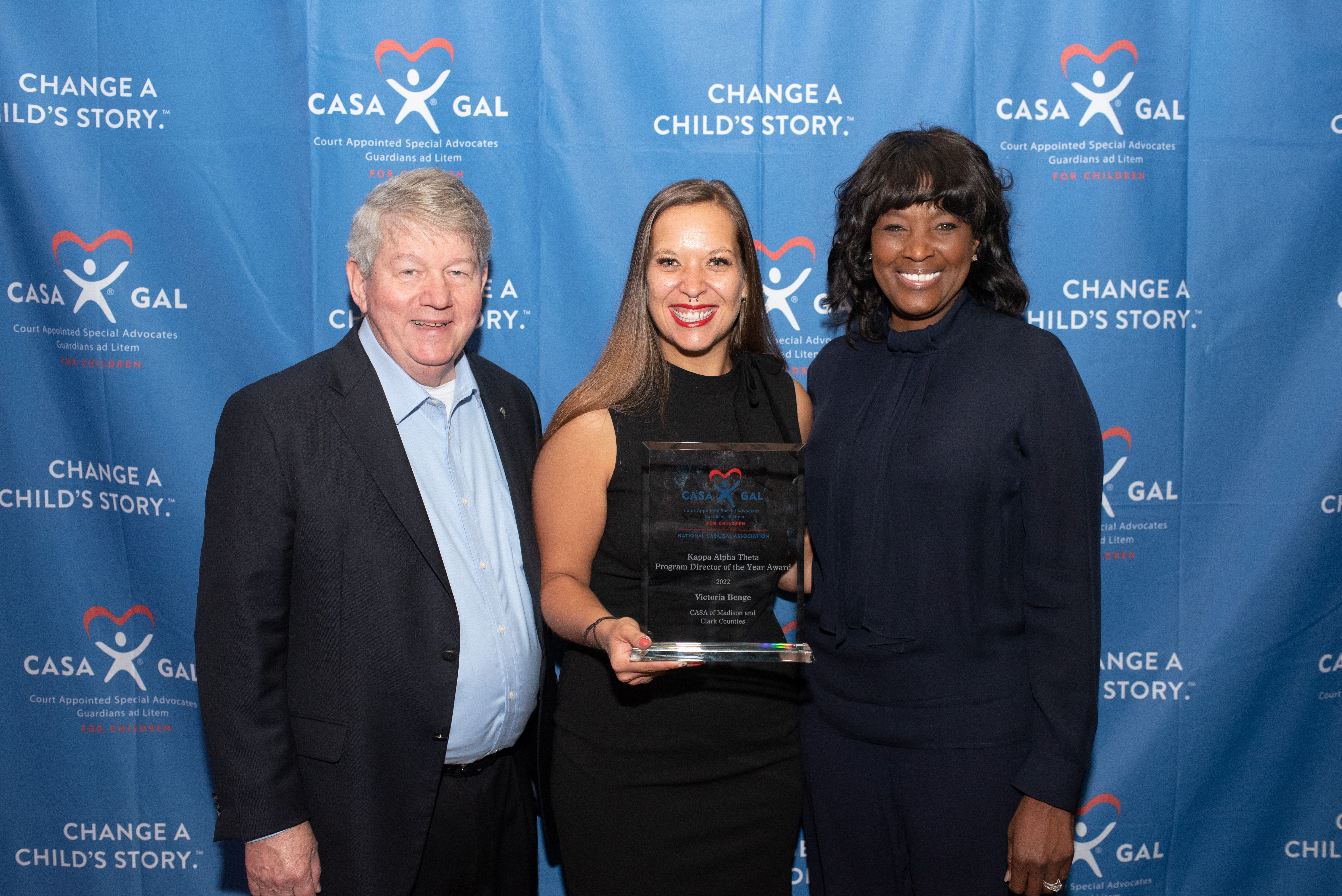 FOR IMMEDIATE RELEASE – June 13, 2022
Contact:
Andrea Bruns, State Director
abruns@kentuckycasanetwork.org
(502) 238-2154
June 13, 2022 – Victoria Benge, Executive Director of CASA of Madison County and Clark Counties, a local organization that works with children who have experienced abuse or neglect, has been named Kappa Alpha Theta Program Director of the Year by the National Court Appointed Special Advocate/Guardian Ad Litem (CASA/GAL) Association for Children. The announcement was made during the organization's Awards of Excellence ceremony at the National CASA/GAL's 2022 Annual Conference held June 6 in Seattle, WA.
The National CASA/GAL Association's Kappa Alpha Theta Program Director of the Year Award, named for one of National CASA/GAL's long-time partners, was created to recognize the exceptional work program directors do every day. The recipient of this award is someone who has taken significant actions to establish or expand a CASA/GAL program. The award is named for the Kappa Alpha Theta Fraternity, which has provided substantial monetary and volunteer support to National CASA/GAL and its network of programs for more than 30 years.
Victoria Benge was hired as executive director of CASA of Madison County in 2018, at a point where the program's number of volunteers and children served were low and challenges with fundraising. Additionally, the court questioned the competence and effectiveness of the program.
Under Benge's leadership, CASA of Madison and Clark Counties has expanded into Clark County, growing from five to 79 volunteers and eight to 147 children served. Additionally, donations have increased by 1,000%. Through professionalism, respect, and dedication, Benge has ensured that CASA of Madison and Clark Counties has a prominent seat at the table in every conversation and discussion regarding the child welfare system in both communities.
"Victoria has transformed CASA of Madison and Clark Counties and is most deserving of this prestigious national recognition," said Andrea Bruns, State Director of the Kentucky CASA Network. "Because of her dedication and leadership, more abused and neglected children in Madison and Clark Counties will have that one caring adult to advocate and speak up for their best interests before the court. Congratulations to Victoria, her staff and board, and the dedicated community volunteers in Madison and Clark Counties."
About the Kentucky CASA Network
The Kentucky CASA Network is the state association for Court Appointed Special Advocates, as recognized in the Kentucky Revised Statutes, with a mission to support the development, growth, and continuation of local CASA programs in Kentucky. CASA programs recruit and train volunteers to advocate on behalf of children who have come into the court system as a result of dependency, neglect, or abuse. In 2021, 1,302 CASA volunteers advocated for 3,758 abused and neglected children statewide. Kentucky currently has 23 local CASA programs that cover 80 counties. For more information, please visit www.kentuckycasanetwork.org.
Photo courtesy of the National CASA/GAL Association for Children: (left to right) Joe Bankoff, Chair, National CASA/GAL Association Board of Trustees; Victoria Benge, Executive Director, CASA of Madison and Clark Counties; and Tara Lisa Perry, CEO, National CASA/GAL Association for Children